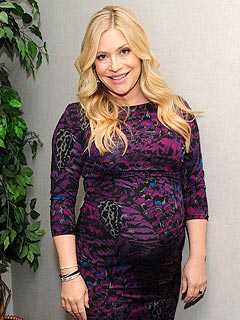 Michael Williams/Startraks
Emily Procter
's discovery that she was expecting her
first child
with boyfriend, musician
Paul Bryan,
was anything but traditional.
"We had been trying and had been very unsuccessful," the
CSI: Miami
actress shares in the November issue of
Pregnancy
. "I had a dream and there was this old woman and she came to me and she said, 'Sweetie, you're pregnant.'"
One pregnancy test later and the exciting news was confirmed. "I got
up in the middle of the night and took a pregnancy test, and it was
true!" she says.


Despite her "rough" start with morning sickness, Procter's pregnancy is getting a whole lot sweeter — literally.
"I've been craving fruit. I love fruit in a way that I never knew I
could," she admits. "I thought to myself, 'I've never eaten this much
fruit in my life, why is my waistline getting so big?'"
Excited to
experience motherhood
come
December
,
Procter has spent the final few months planning for baby's arrival. "I
think I'm over-preparing," she laughs. "I have us signed up for baby
CPR, if we've done our homework then no matter what life throws at us,
we'll be prepared."
That said, one thing Procter won't be signing up for is a
homebirth. "My boyfriend suggested we have a water birth, to which I
replied, 'Are you going to clean the tub?' That's usually my job, and
I'm not doing it," she jokes.
"I will definitely go to the hospital — I am no spring chicken. I
told Paul, 'Look, if I were 25, maybe we could have a homebirth. I'm 41.
We're going to the hospital!'"
– Anya Leon